Subscribe to the SIG mailing list here.


Depository libraries provide free access to government documents collections, including electronic resources. The METRO Government Documents Special Interest Group is comprised of librarians from the depository libraries in the NYC area and others interested in access to government information. This group meets twice a year to learn more about issues and resources related to government information. The group provides a network of support for resource sharing, collaborative collection development, and other support for documents librarians.
Our main goals are to:
1. Provide a forum of professional exchange and support for Depository Libraries in the area
2. Promote the use of government sources by all librarians regardless of depository statues, through our education programs
3. Provide support and mentoring to early career professional and library school students
Please feel free contact with government information realted questions.
Peace.
Debbie Rabina & Jane Cramer
GoDig co-chairs
Congratulations and Best Wishes to Nancy Macomber on her Retirement (by Jane Cramer)
Feb. 21, 2015
METRO-GODIG would like to congratulate Professor Nancy Macomber a long time member of this group on her retirement, and thank her for her service to the Government Information Community as well as her support and mentoring of other practitioners.


Nancy was a welcoming presence when I attended my first GODIG meeting in the mid-1980s and a source of much help as I was learning more about the Government Documents world, especially with New York State materials.
Although she is retiring from the CUNY School of Law as the Head of Library Technical Services and Associate Professor prior to that she managed the depository collection at Queens College Library from 1985-2007 while wearing many other hats in both Reference and Technical Services.

Her work in compiling the New York State Depository Library Manual was part of a critical update to the program that stood for more than a decade.http://www.nysl.nysed.gov/nysdep.htm She also served as the president of NYLA Government Documents Interest Group (GIRT) 1990-1991. After completing her term with NYLA she was drafted to Chair GODIG from 1991-1993.

Her outstanding work with Government Information on all levels was recognized formally in 2001 when she received the Mildred Lowe award for a librarian who has made a significant contribution to government documents librarianship, access to government information, and/or the encouragement of documents use in New York State libraries.http://library.qc.cuny.edu/information/newsletter/PD_7_1_Spring02.pdf

Prior to joining CUNY she worked at both St. John's University Library and NYPL as a Reference Librarian.

She taught Government Information and other topics at both Queens College Graduate School of Library and Information Studies (1991-2000) and St. John's University Graduate School of Library and Information Science (1988-89).
She will be missed by her colleagues in CUNY and across the Government Information Community. We wish her many happy years of retirement.
NYC Dept. of City planning
Thank you to everyone that attended the 2/11/15 presentation from the
NYC Dept. of City Planning.
The presentation slides are available under the File Repository tab in 5 files.
The report titled Population of the City of NY: CUrrent trends, June 2014
is available from this link
Brooklyn College Library is FDL of the year !
May 22, 2014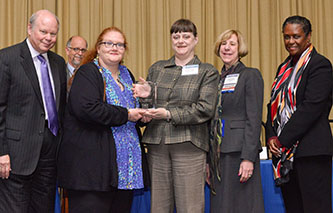 The Brooklyn College library has received a Library of the Year award from the U.S. Government Printing Office for its leadership and mentoring activities for library staff in the greater New York City area, and for providing expert staff and public access to a wide range of electronic resources.
Stephanie Walker, a professor, the chief librarian, and executive director of academic information technology, said that she was thrilled to get the award and honored to travel to Washington, DC to the awards ceremony with associate professor and librarian Jane Cramer, who oversees the library's government documents.
"People don't realize how important access to government information is, especially since so much is disappearing and becoming more ephemeral," Walker said. "It's librarians who are battling the disappearance of information."
The library has since 1936 been a participant in the Federal Depository Library Program, which means it is charged with providing the public with access to information from all three branches of the federal government. Its collection includes the Congressional Record, statistics, Census data, budgets, treaties, and many other government documents. The Brooklyn College library has the largest on-site collection in the New York City metropolitan area, housing 1.3 million print materials and more than 68,000 electronic books and journals. It is considered the most advanced within the City University of New York system.
Debbie Rabina, GoDIG co-chair
Debbie Rabina
Contact Info
Debbie Rabina, Ph.D,
Associate Professor
Pratt Institute, School of Information and Library Science
144 West 14th Street, 6th fl.
New York, NY, 10011-7301
Send Email
Jane Cramer, GoDIG, co-chair
Jane Cramer
Contact Info
Library Department
Brooklyn College
janec@brooklyn.cuny.edu
718-951-5332
Send Email